With innovative NEW multi-frequency technology, the EQUINOX Series redefines all-purpose detecting for the serious enthusiast. Equally adaptable for all target types and ground conditions, just set your detecting location and go!
Features:
Simultaneous Multi-Frequency

True intelligent Simultaneous Multi-Frequency for maximum performance, plus a wide range of single frequencies.

Wireless Audio Compatible

Compatible with ultra-fast wireless audio with the WM 08, and fast aptX™ Low Latency / Bluetooth headphones.

Waterproof Design

EQUINOX is fully submersible, ideal for detecting at the beach and in rivers, streams and lakes. (3m / 10-feet)

6 Custom Search Profiles

Each Detect Mode features 2 custom Search Profiles so you can save your favourite settings in each mode.

Sleek & Lightweight

Rugged and lightweight construction allows you to enjoy long detecting sessions in any environment.

Fast & Accurate Target ID

Fast recovery speed with accurate Target ID ensures you won't miss any valuable targets amongst the trash.
---

"The Minelab EQUINOX is truly in a league of its own. In the short time I've been operating this machine, I've recovered deep coins and artifacts from iron infested sites that other machines simply cannot detect."
– Brandon Neice

Left: Rare 1876 Carson City minted US dime​ | Centre and right: Ancient Roman coin, possibly Aurelius Sol Invictus AD 270-275​ (obverse and reverse)
Equally adaptable for all target types and ground conditions… just select your detecting location and go!
| | | |
| --- | --- | --- |
| Great for high-trash recreational areas, including most general detecting. | Ideal for detecting in historical fields for the widest range of target sizes. | Optimised for all salty conditions – dry sand, wet sand, surf, underwater. |
---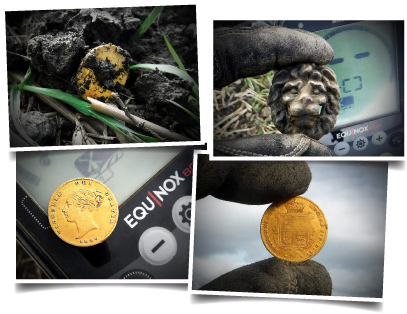 "EQUINOX GOLD BABY!!! Derek and I were testing the EQUINOX prototype yesterday, on another Victorian dump field over on the East side of Scotland. The field was very contaminated and busy with lead, scrap, iron, etc.
We managed a few nice finds and one special 22ct gold coin from the reign of Queen Victoria, dated 1849 - 168 years old!!. It was a great signal at around 6-8 inches and one you would dig all day long. We were detecting next to a Roman camp and quite possibly unearthed a broken Roman cast bell, could be medieval though and one or two other cool artefacts"
– Sharon McLennan

---
User Interface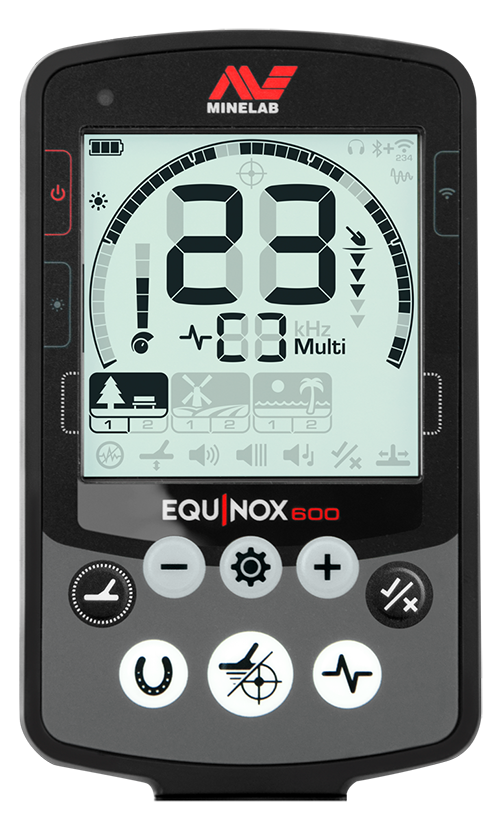 The clear LCD features large Target ID numbers so you can see your target ID at a glance. All of the information you need when detecting is right there in front of you.
Detect Modes and operating frequency can be instantly changed at the push of a button for a dynamic and uninterrupted detecting experience.
Using the EQUINOX 600 user interface, you can:
Change the Detect Mode, Frequency and Sensitivity on the go.
Create your own notch discrimination patterns to ignore unwanted targets.
Activate All-Metal mode to temporarily disable the current discrimination pattern.
Activate Pinpoint mode to zero-in on a promising target so that you know exactly where to dig.
Adjust an array of essential and advanced detecting functions including Noise Cancel, Ground Balance, Volume Adjust, Threshold Level, Target Tone, Accept / Reject and Recovery Speed.
View the status of your battery and wireless audio device connections.
Plus more!
For detailed information on user interface functionality and operation, download the EQUINOX 600 | 800 Getting Started Guide from the downloads tab.
---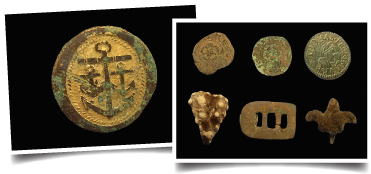 On a recent trip to England:
EQUINOX is a remarkable detector! I detected a medieval fair site littered with iron and coke [hot rocks] that had been hunted to death 6 weeks before I arrived. The number of targets recovered was impressive including, Rose farthings, trade tokens, buttons, fleur-de-lis mount, brass nails and bits of lead / brass scrap.
– Jeff Lutz

---
Multi-IQ

Low frequencies give more depth on large targets, and high frequencies are usually more sensitive to small targets.
With EQUINOX you can operate across the full spectrum of frequencies simultaneously for maximum results.
Read more detailed information and reviews on our game-changing Multi-IQ technology on the Minelab
Treasure Talk
Blog.

* 20 kHz and 40 kHz are not available as single operating frequencies in EQUINOX 600. The Multi-IQ frequency range shown applies to both EQUINOX 600 and 800. This diagram is representative only. Actual sensitivity levels will depend upon target types and sizes, ground conditions and detector settings.
---
Other Technologies

EQUINOX 600 offers 3 single frequencies of 5, 10, and 15 kHz, giving a 3-times range of 5 to 15 kHz.​
---



Maximum wireless audio compatibility - Connect conventional Bluetooth headphones, high-speed aptX™ Low Latency devices, or the ultra-fast Wi-Stream enabled WM 08 audio module. Wireless headphones and WM 08 Module purchased separately.
---
Carton Contents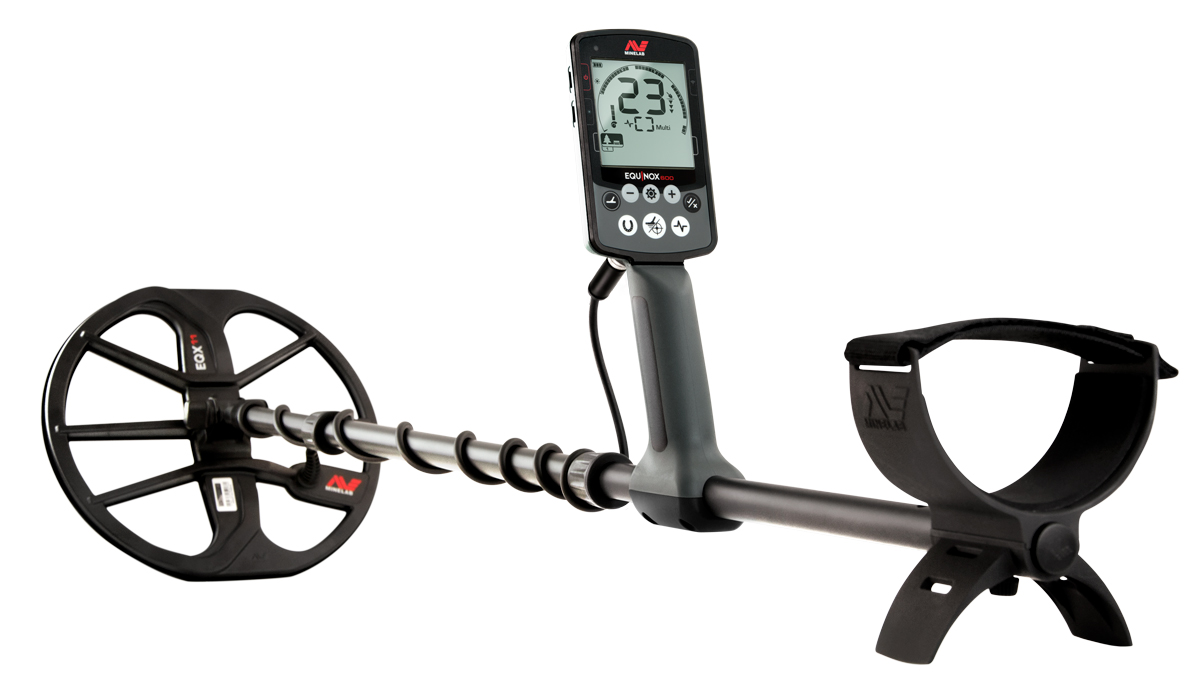 Wired headphones

USB charging cable with
magnetic connector

Multi-Language screen protectors




Getting Started Guide
Additional accessories and replacement parts

are also available.
---